Main Content
Why choose Realstar?
Realstar Advantage
We are a Full Service Brokerage – not list and forget.
(We do everything the big boys do for less including thorough marketing and service.)
Licensed Broker working with you from listing or touring homes,
through negotiations, inspection, and all the way to closing.
We are dedicated to your success as a buyer or seller.
Client Interaction – Keep up on the market, receive feedback
from showings, and view listing statistics for your area.
Flexible market programs adapt to all sellers' needs
Award Winning Service
3.9% commission can save you
(sellers)
$10,000 or more
Testimonials
Experienced Agents and Brokers who receive continual training.
20 successful years of market using 3.9% commission structure
Lockbox, yard sign & brochure box, scheduling system (makes
scheduling showings more convenient, including approval via text message.
Gives total control to you, the seller) showing feedback, national relocation
Why 3.9% Works
Technology has leveled the playing field between large and
small brokerages while cutting the marketing
costs for selling a home by 50%. That savings has
never been passed on to the sellers – until now.
Realstar is real estate done smarter. We offer the same
products as the big brokerages: same MLS, same real estate websites, same lockbox system etc but at a fair price.
Almost every buyer starts their home search online. Our listings
appear on over 1000 real estate websites. We pay extra to make sure you get maximum exposure.
Buyers are not interested in whose sign is in front of the property. Buyers just want to know: How much is it? When can I see it?
The fact is the Internet sparks the interest and your pricing
and home gets them in the door.
No hot air. Most real estate brokerages are set up like multi-level marketing companies where everyone is getting a piece of
your pie. Realstar is different.
We pay out 2.5% co-op to the buyer's agent.
3.9% commission can save sellers $10,000 or more.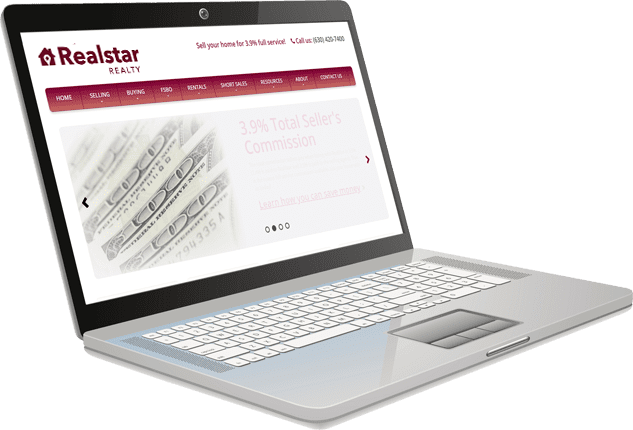 Realstar's Proven Marketing Plan
Innovative Marketing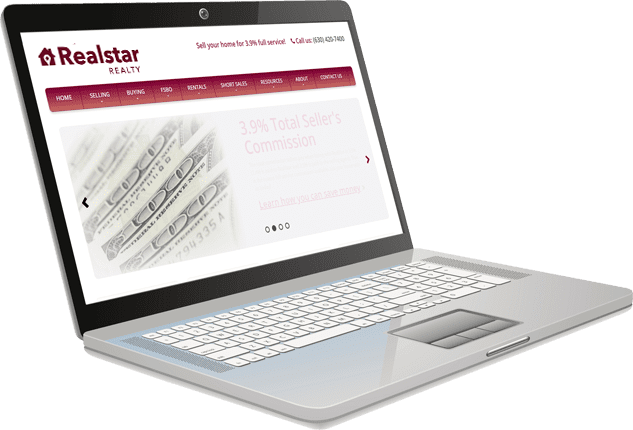 6 steps to a successful sale
Pre Market Staging and Preparation
Realtor Private Listing Network
Complete 24/7 Marketing
Regular Feedback and Market Analysis
Negotiate Best Terms and Price
Facilitate Inspection, Financing, Closing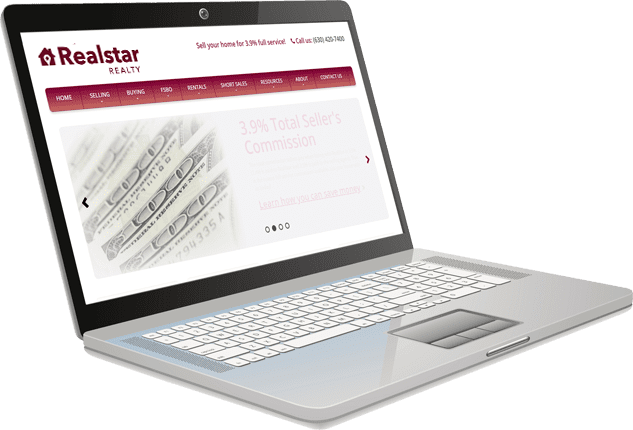 Exclusively Realstar:
3.9% Total Seller™ Commission
Seller Controlled Showings
Feedback Results Direct to Seller
Locally Owned and Operated
Exclusive For Sale By Owner Program
Award-Winning Customer Service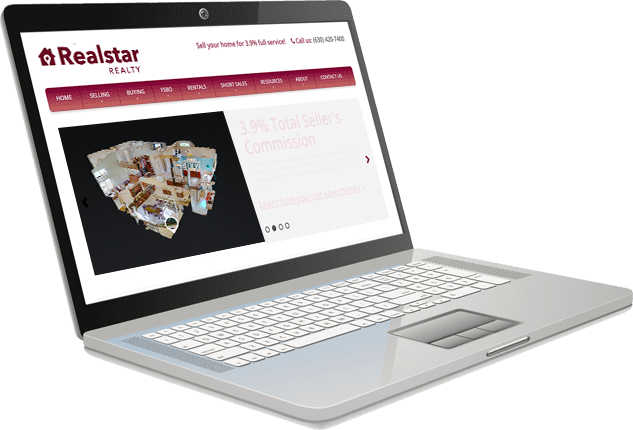 Professional Photos/3D Tours
Professional Photography
Matterport™ True 3D Tours
Improves 'Quality' of Showings
Increases Online Viewer Time
Lowers Market Time
Higher Sales Price
Search Illinois
by community
by clicking on your neighborhood
Campton
Hills
Downers
Grove
Glendale
Heights
North
Aurora

South
Elgin
Villa
Park

Realstar Realty is real estate done smarter.

Not Your Average Broker
HELPING FSBO
SELLERS
Realstar is the only Full Service
Broker offering FSBO sellers
market programs potentially
commission free.
FINDING THE RIGHT
AGENT
Choosing the right agent is the
most important step to ensuring
your transaction will be successful
and beneficial for you.
KNOWLEDGE
AND FOCUS
Does your Agent have your best
interest in mind, or theirs?
It was a good experience. Rob listened to what I had to say. He knew his job well. He was very knowledgeable of things. He always informed me of what was going on. I would recommend him to anyone looking to sell their home.
I highly recommend using Laura! She is not only professional, but personable. She had great advise and when the market changed she was good to change gears. We felt like a team but also she was a close friend throughout the entire process! She is easy to reach for anything 24/7. From start to finish you will love working with Laura who will go the extra mile to get your house sold!
Dave helped me sell my home and purchase another when we downsized. His attention to detail was outstanding which I greatly appreciated. Dave kept in touch on both transactions and communicated with me and my attorney dozens of times throughout. I would recommend him anytime.
Robert's attention to all steps in the process of selling our home was first rate. I felt like he was paying as much detail to selling our sale as if he was selling his own home. Robert was totally engaged in the sale of our home from the day we signed him as our Agent all the way to the day we signed the closing papers. He was easily available anytime we had questions or needed any help and quickly returned our calls. He always answered our question. I would have to add reliable and trustworthy to the above and rate him excellent for both characteristics. We were very pleased with the whole process. Robert and the entire Realstar team far exceeded our expectations.
Chris helped us buy and sell a home. She was knowledgeable about the housing market for the area we were selling and the area in which we were buying. Chris was especially helpful with her expertise in the area we were buying. She provided opportunities for us to see houses and make offers that other agents may not have been able to do.
I am sure the sale of our home was not one of the easiest for John (due to the unusual layout of the home) but I cannot express enough our appreciation and gratitude for the great effort and persistence John demonstrated in finding a buyer for our property. His knowledge of the market in our area, his responsiveness to our questions and concerns and, most importantly, his excellent negotiating skills were instrumental in getting our house sold at a good (satisfactory) price. I would not hesitate to have John represent us again and I highly recommend him to anyone who is looking for a dependable and qualified realtor who stays in constant touch with his client throughout the entire challenging selling process.
John and Dianne were fantastic to work with! Both were patient during our picky search, which resulted in them showing us houses well into the teen amount- with them eager so show us each new place! John is incredibly knowledgeable in both the real estate industry as well as home construction/renovation, which helped ease our concerns with possible home issues and resolution. Diane is always so pleasant to meet with and was helpful with creative ideas in home design in uncommon layouts. We definitely recommend Realstar and will look forward to working with the team again in the future!
Realstar Realty is an A+ in our book. From selling our home within days of listing to negotiating the best deal for our new home, John Wilt helped make the home-buying process turn-key. What's more, he helped us navigate the search process searching high and low, town-to-town to find the perfect home for our family.
John knows his business. He is professional, honest and hardworking. He has worked with me on at least 3 home sales and did a fantastic job on all. Highly recommend him!
Along with his professionalism and industry knowledge, John has exemplary follow through. He promptly returns phone calls and is always helpful in addressing any and all concerns. Another great part of his business success is his wife, Dianne. She works alongside him as a partner and stager. She has a good eye for design. Together, they are a pleasure to work with and made my buy/sell experience quite stress-free. I highly recommend this team for your next real estate transaction.